How can the 'Electricity Directive' help you to enter the renewable energy market in Ireland?
The 'Electricity Directive' is one act within the EU's Clean Energy Package. This Directive sets rules for the generation, transmission, distribution, supply and storage of electricity. It increases consumer choice by also including consumer empowerment and protection aspects. The Directive will be applied in Ireland from January 2021.
A key element of the Electricity Directive is to prescribe legislation that will empower consumer participation in the electricity market. How does the act encourage this participation? It does so by introducing articles that ensure more information is offered to the general public regarding the self-generation, buying and selling of electricity. This includes aspects such as the provision of more information to the consumer on issues such as smart meters and billing to enable informed decisions about their market participation.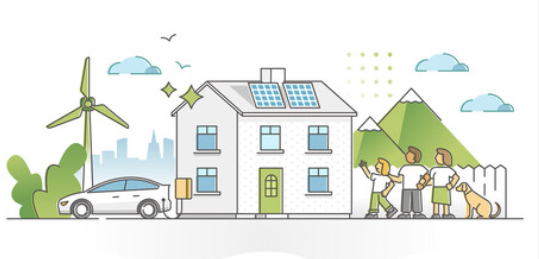 Furthermore, the Directive requires that more information is to be available on consumer contracts and energy bills. It also states that consumers must be provided with accurate price comparison tools which will enable informed switching decisions. These options will give the consumer more power in deciding how and where they obtain their electricity.
Is Ireland implementing this 'Energy Directive' to encourage the use of renewable sources?
For background, in 2018 and 2019, the EU adopted a series of eight legislative acts. These acts are referred to as the Clean Energy Package (CEP). Each of the eight acts are to be applied in each Member State across the EU at various times. In 2020, Ireland started the process of changing legislation in order to allow for the implementation of two of these acts, referred to as 'The Energy Directive' and 'The Renewables Directive.'
The overall aim of the acts within the Clean Energy Package is to facilitate a transition in the EU towards cleaner energy. This will help in achieving a proposed 40% reduction in greenhouse gas emission levels by 2030, compared to 1990. To do this, European countries will need to switch from finite energy sources such as gas and coal to renewable sources. These include solar energy, wind energy and other natural resources. The 'Energy and Renewables Directives' will have a major impact on the energy future of Ireland and are to be applied and implemented here beginning in January 2021.
Image from the European Commission's Presentation of the Clean Energy Package
Ireland is already compliant with many aspects of the Electricity Directive. It builds on previous Directives and therefore Ireland has already implemented many articles or can become compliant through relatively minor changes to the existing framework. However, there are some aspects that may require, new regulatory functions, powers and duties to be included in the changing legislation. These changes are important in ensuring that a transition to a clean energy future is seamless.
The Role of Smart Metering
Additionally, electricity consumers should have access to smart meters which will provide up to-date and accurate data. These smart meters should also not be a barrier to supplier switching, and all consumers should be able to freely switch suppliers in a practical timeframe. This ensures that the consumer has the opportunity to obtain the best electricity options for themselves.
In September 2019 the nationwide rollout of electricity Smart Metering Devices to customers by ESB Networks commended. The tagline for this rollout was:
"METER BY METER WE'RE GETTING IRELAND READY FOR A LOW-CARBON FUTURE".
Image from ESBnetworks.ie
The Electricity Directive contains rules surrounding the deployment of Smart Metering Devices, including measures on data privacy and protection in accordance with EU law. This ensures that the consumer remains protected when engaging with these new technologies.
The articles within the Directive that aim to help the consumer are outlined below. Specifically, with regards to smart meters, Irish legislation will ensure that the necessary actions are adhered to throughout deployment and beyond, to fully comply with the Directive.
Article 20 within the Directive deals with the functionalities of Smart Metering Systems. It states that actual electricity consumption should be accurately measured, and customers should receive information on actual time of use. This will help consumers to track where and when they are consuming the most electricity, which could in turn aid in reducing the amount of energy used.
Another article states that where customers do not have a smart meter, they shall have access to a conventional meter. This ensures a fair system across the EU. Furthermore, Article 23 outlines rules that are to be specified on the access of data of the final customer by eligible parties, this is to be in accordance with the European Union legal framework. If the review on these articles highlights any substantial areas of non-compliance with the requirements, regulatory regime will be updated to ensure the protection of the consumer.
How will updated requirements be addressed?
Many of the requirements outlined in the Electricity Directive are already contained in the Electricity and Gas Supplier Handbook and the Price Comparison Website Accreditation Framework, both of which are regulated by the CRU. These outline requirements that suppliers and price comparison websites should adopt into their own Codes of Practice and Business Practices.
However, the new Electricity Directive has provided several new requirements which need to be transcribed into Irish law. To determine what updates are needed to the current Supplier Handbook/regulatory framework, an internal CEP focused review will be conducted by the CRU particularly in relation the following articles:
Article 10 Basic Contractual Rights.
Article 12 Right to switch and rules on switching related fees.
Article 14 Comparison tools.
Article 18 Bills and Billing Information.
Who is the new player in the energy market? The aggregator.
Furthermore, there is a new player in the electricity value chain, the aggregator. They combine customer loads and generated electricity for trading on the energy market. The Directive sets out principles to ensure that aggregators can fulfil their role as intermediaries between customers and the wholesale market.
Role of an aggregator
Image from en.energinet.dk
According to Article 2.18 of the Electricity Directive, aggregation means a function performed by a natural or legal person who combines multiple customer loads or generated electricity for sale, purchase or auction in any electricity market. The requirements for adherence to aggregation contracts and for demand-response through aggregation are noted in Article 13 and 17 of the Directive.
Opportunities and Difficulties facing a Future Clean Energy Market
In his podcast, Dr Maximilian Wimmer, a senior researcher at the Foundation for Environmental Energy Law, analyses aggregators' opportunities and difficulties in the future energy market. He does this with a view on the relevant legal framework found in the "Clean Energy for All Europeans Package". He refers to the changes in the legal framework that will occur due to the Electricity Directive, how discriminatory measures will be required to be removed to ensure fair market access.
With regards to these articles, a regulatory framework is to be in place which provides non-discriminatory and transparent rules on the roles, responsibilities and procedures for aggregation. Currently, within Ireland, the concept of aggregation is being addressed by the SEM Committee with respect to wholesale market participation.
Active Customers and Citizen Energy Communities
As well as ensuring that more information is provided to consumers, there are also several articles relating to the treatment of final customers who are individually or jointly acting as market participants. This participation can be through means of direct generation, or the supplying or buying of electricity. These customers can act as active customers and are not subject to discriminatory technical or administrative barriers in doing so. Under Article 15 of the Directive they:
Are entitled to self-generated electricity.
Can participate in flexibility and energy efficiency schemes.
Can delegate to a third party for the management of installations for their activities.
Must not be faced with unjust network charges.

These customers can be categorised in two ways, as either 'active customers' or 'citizen energy communities.' An Active Customer is defined as: a final customer who consumes, or stores electricity generated within specified boundaries, and/or sells self-generated electricity. This is provided that these activities do not constitute the primary commercial or professional activity.
Therefore, these customers must not buy or sell energy as their primary profession. They can however use it for their own gain and participate in the energy market. They are also to be financially responsible for any imbalances they cause in the market.
Additionally, active customers have the option to own an energy storage facility. The Directive states that if they own one of these facilities that they:
Shall have timely access to grid connection.
Are not subject to double network charges and/or disproportionate licensing requirements.
May provide several services simultaneously.
The second category are referred to as 'citizen energy communities.' The primary purpose of these entities is to provide environmental, economic or social community benefits to members or shareholders or to the local area where it operates, rather than to generate financial profits.
Image from ec.europa.eu
A Citizen Energy Community is defined as: a voluntary and open legal entity which is controlled by its members whose purpose is providing environmental, economic or social community benefits and may engage in generation from renewable sources, distribution, supply, consumption or other energy providing services.
Role of Network Operators
The Electricity Directive also serves to update several of the responsibilities of the Transmission System Operators (TSOs). Furthermore, it will also expand upon the tasks and responsibilities of Distribution System Operators (DSOs), as well as defining what services the DSO is expected to facilitate and which services the DSO may not participate in. Both TSOs and DSOs are not allowed to own, develop, manage or operate energy storage facilities under Article 54. The CRU will conduct a review of EirGrid to assess the ownership structure of energy storage facilities to ensure full compliance. There is also a requirement on the TSO to publish a ten-year network development plan.
Image from eirgridgroup.com
Who is implementing these Directives?
The Commission for Regulation of Utilities is in charge of implementing these Directives within Ireland. The CRU's mission is to protect the public interest in Water, Energy and Energy Safety. Its strategies include:
Delivering sustainable low-carbon solutions with well-regulated markets and networks.
Ensuring compliance and accountability through best regulatory practice.
Developing effective communications to support customers and the regulatory process.
Fostering and maintaining a high-performance culture and organisation to achieve this vision.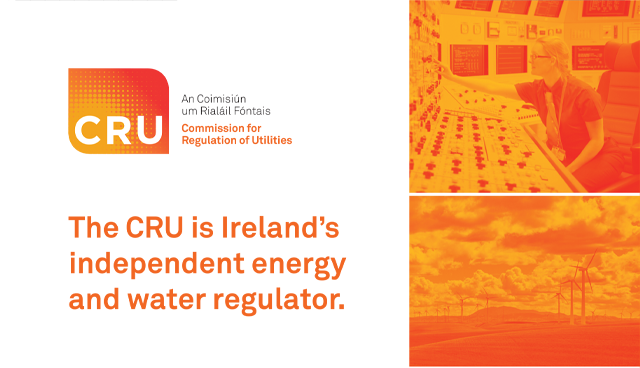 'The Electricity Directive', is to be implemented by the CRU as it covers retail market and electricity network issues. These both fall under the remit of the CRU. The Department of Communications, Climate Action and Environment (DCCAE) will work alongside the CRU as these acts are transposed into Irish law. The 'Electricity Directive' will impact several areas. These changes to legislation discussed above fall under three core categories:
Updates to Retail Markets
Prosumer Development
Network Operators
Electricity Directive (EU)
By implementing these changes, the Directive aims to create integrated electricity markets in the EU, that are both competitive and consumer-centred. The Directive will provide consumers with more tools for active participation in the energy market, thereby improving retail market competition and ensuring that the electricity market in Ireland is fair and transparent. The consumer will now have more influence and options than ever before.